The difference between graceful aging and the development of unwanted features, like jowls and hanging neck skin, depends on how the tissues of the lower face change over time. Sometimes, the fatty deposits that used to support the cheeks descend and clump together near the jawline, distorting the natural balance of the face. EmbraceRF, an innovative new non-surgical treatment from InMode, combines established radiofrequency technologies to strategically remodel facial adipose tissue. By removing problematic fat deposits and improving skin fullness and firmness, EmbraceRF lifts the lower half of the face and restores youthful contours. At his Miami Beach plastic surgery clinic, Dr. David Gerth offers this safe, gentle procedure to patients who want to treat the signs of facial aging without facelift surgery.
EmbraceRF utilizes InMode's proven FaceTite and Morpheus8 systems to address unwanted facial fat and loose skin at the same time. Combining these two treatments makes EmbraceRF a convenient and affordable way to obtain comprehensive anti-aging benefits.
FaceTite is a radiofrequency (RF) energy treatment that's designed to reduce, refine, and remodel adipose and dermal tissue. FaceTite strengthens the connective tissues that support the face (by increasing collagen production) and causes immediate tissue contraction, which tightens the skin. The RF energy emitted during FaceTite treatment simultaneously creates gentle heat that breaks down the lipids inside fat cells, making them dissolve and vanish. This dual slimming and firming action is ideal for patients who are struggling with visible jowls, submental fullness (a "double chin"), visible wrinkles, and skin laxity below the jawline. FaceTite is capable of lifting and firming the entire lower face and upper neck region, creating results that are comparable to facelift surgery.
RF energy is one of the gentlest ways to heat subcutaneous tissue, so this procedure does not typically require any downtime. The FaceTite system employs built-in temperature controls to further eliminate any risk of patient discomfort during or after treatment.
BodyTite, like FaceTite, is a radiofrequency (RF) energy treatment used to contour and refine adipose and dermal tissue. However, this minimally invasive technology is adapted to target the body below the face such as the arms, abdomen, waist, and legs. BodyTite is ideal for patients who desire larger areas to be toned and smoothed, and additionally can be used to reduce the appearance of cellulite. Like FaceTite, there is minimum downtime with the BodyTite procedure, leading to a rapid recovery with minimal pain.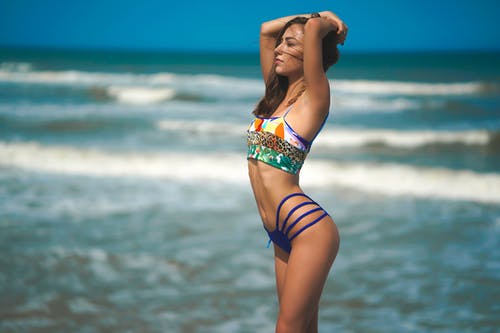 Unlike FaceTite, which primarily treats tissue below the surface of the skin, Morpheus smooths and firms the upper epidermis. Morpheus8 is similar to laser skin resurfacing, but instead of using a conventional fractional laser to dissolve damaged skin cells, this procedure uses fractionated RF energy. Fractionated RF energy performs similarly in its ability to erase blemishes and stimulate collagen production, but it's much less invasive. During Fractora treatment, RF energy is administered via tiny micro-pins that are similar to acupuncture needles. As a result, this treatment will not cause the skin to burn, blister, or peel. In fact, Fractora is so safe that it can even be used around the eyes.
Fractora is an excellent way to erase deep wrinkles and diffuse fine lines, improve the fullness of the skin, and reverse the effects of UV damage. This treatment can fade age spots, remove broken blood vessels, and gradually resurface scarred skin.
By combining Fractora and FaceTite, EmbraceRF combats both the structural causes of aging and its more superficial manifestations. In this way, it creates uniform, natural-looking rejuvenation that will leave you feeling radiant—Without the discomfort or downtime associated with surgery.
Who Makes a Good Candidate for EmbraceRF Treatment?
The ideal EmbraceRF candidate is a healthy adult man or woman who has noticed mild to moderate lower facial sagging. Candidates should have realistic expectations for this procedure, too: While EmbraceRF can produce results similar to surgery on some patients, candidates with severe skin laxity may still benefit more from face or neck lift surgery. During your consultation, Dr. Gerth will carefully examine the condition of your skin and let you know whether or not EmbraceRF will be sufficient to achieve your personal objectives. EmbraceRF can also be combined with surgical procedures to create even more striking results.
What to Expect during EmbraceRF Treatment
EmbraceRF treatment generally takes about one hour. During treatment, your face and neck will be numbed with local anesthetic to completely prevent any discomfort. Tiny incisions will be placed in key areas to allow the insertion of small probes capable of delivering RF energy directly into subdermal tissues. Most patients are able to resume all of their normal activities immediately after having EmbraceRF.
The results of EmbraceRF will become fully evident six to twelve weeks after surgery, as increased collagen levels continue to heal and strengthen the skin. Many of the results of EmbraceRF are permanent (fat that is dissolved will never grow back), but normal aging can create more loose skin several years after treatment. If this occurs, you can contact Dr. Gerth and have your procedure repeated.
Arrange an EmbraceRF Consultation in Miami Beach
EmbraceRF can help you look and feel like yourself again, naturally and painlessly. To learn more about the benefits of this procedure, contact board-certified Miami Beach plastic surgeon Dr. David Gerth at (305) 493-8340 to arrange a consultation.
Looking to book your procedure in the Miami Beach area? Learn why you should choose a versatile surgeon like Dr. Gerth today!